Kamen Rider Fourze: review kitaaaaaa
Par NiKi // Japan pop' // 57 commentaires
Vous savez quoi? Récemment je suis allé encore plus loin de la déchéance otaku ( oui c'est possible ). Oui je me suis mis a Kamen Rider. Vous savez c'est une série Tokusatsu, vous savez comme les Power Rangers et tout ça. Oui c'est ça foutez vous de moi. Mais moi au moins je prends mon pied avec une série qui ne se prend pas la tête et ou le mot d'ordre est le fun!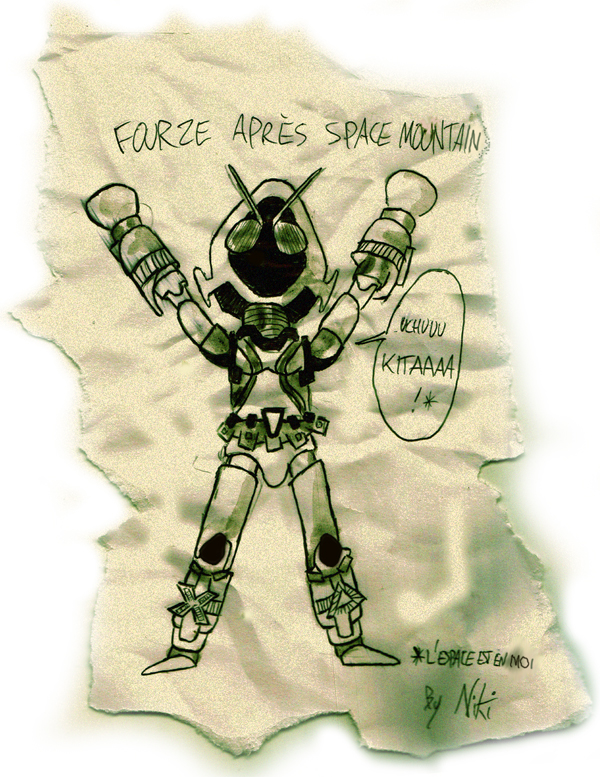 Kamen Rider Fourze fète les 40 ans de la franchise Kamen Rider ( Fourze = Four Zero ) et pour l'occasion ils ont décidé de marquer le coup en donnant une nouvelle jeunesse au héros et boulverser un peu la formule Kamen Rider. Ainsi, Kamen Rider Fourze est le premier Rider à mettre en scène un lycéen, et le mot d'ordre de la série est clairement la jeunesse. En effet là ou les dernières séries veulent se la jouer cool et ténébreux, Fourze se démarque clairement par un ton beaucoup plus léger et déjanté. Oui j'ai dit clairement et je pèse mes mots.

Tengen Toppa Kamen Rider

Effectivement dés qu'on voit la dégaine du héros Gentarô Kisaragi on se rend tout de suite compte que ça sera pas damn serious. Comment prendre au sérieux un mec qui a l'air tout droit sorti d'un nekketsu manga avec sa banane fabuleuse et ses converse enflammés d'un tel mauvais goût que c'en est fabuleux? Et en fait tout est comme ça et l'ensemble de la série est assez délirant, tous les personnages sont des stéréotypes totalement assumés et exagérés assurant une bonne dose de bonne humeur. Ce coté stéréotype assumé permet aussi d'accepter le jeu d'acteur surjoué qui a sa place dans cet environnement déjanté. Le contexte de la série en soi aussi est assez trippant, mélange de lycées américains et japonais digne d'un Star Driver ou Code Geass qui se permet de gros délires comme le Kamen Rider Club. Plus fort que la Brigade SOS.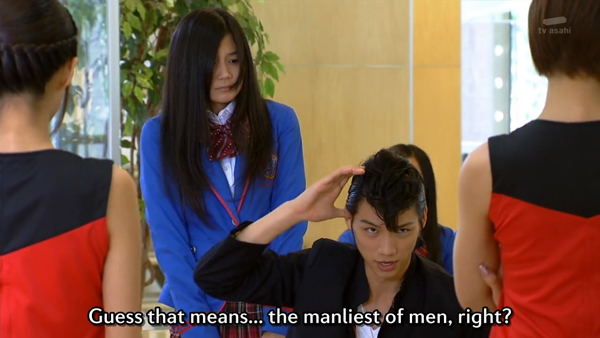 Ginga Bishonen peut aller se rhabiller!
Et il y a une raison qui explique la folie ambiante à Kamen Rider Fourze: Le scénariste de la série n'est autre que Kazuki Nakashima.
Oui le scénariste de Gurren Lagann qui s'autoproclame Getter Person
, un mec qui à le nekketsu dans le sang. Sa touche se ressent tout de suite dans le style de la série. Bon je ne vous ménage pas le suspens, Kamen Rider Fourze à un attirail d'armes délirant allant de Foreuse ( dés l'épisode 2 on a une attaque comparable au Giga Drill Breaker ) aux Ciseaux sans oublier la moto inévitable d'un Rider, qui servira dans la série a envoyer les méchants dans l'espace, rien que ça. Et n'oublions pas aussi le fabuleux Kamen Rider Meteor, le fameux Rider taciturne et mysterieux toujours la pour sauver la mise quand on ne l'attend pas... Sauf qu'il est en tenue de disco, se transforme avec une boule a facettes, se prend pour Bruce Lee ( avec les owataaah inclus bien évidemment! ) et te balance des planètes dans la gueule.Tous les gimmicks qui font l'identité d'une série Toku sont aussi délirants les uns que les autres, que ce soit le compte a rebours ou le Uchuu Kita, ils sont tous funs!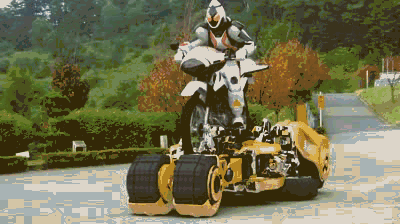 Ils ont réussi à faire plus cool que la moto de Chuck Norris dans Delta Force. L'usage le plus stylé d'une moto depuis Ga-Rei ZERO.
Mahou Shôjo Fourze

Mais le nekketsu n'est pas le seul truc dont a hérité Kamen Rider Fourze. En effet il y a un autre genre qui semble s'être mélangé avec ce Kamen Rider, celui du magical girl. Après Precure qui subit l'influence des Sentai d'année en année c'est au tour de Kamen Rider de s'impregner des magical girls. Ces deux genres ce complètent il faut le dire, les Tokus sont les héros des jeunes garcons japonais et les filles s'identifieront plus aux Magical Girl mais au fond l'intention est la même
D'ailleurs si vous aviez lu mon dernier article vous sauriez que les Tokus et les Precure partagent la même plage horaire et ce n'est pas pour rien!
Bref.
La ou Precure a emprunté l'aspect baston des Toku, Fourze emprunte le coté apprentissage de la vie propre aux Magical Girls, même si les bastons sont loin d'être négligés. La plus grande appréhension pour un n00b en Tokusatsu c'est les effets spéciaux réputés pour être cheap. Et bien il faut avouer qu'ils sont ici assez réussis pour tout ce qui est cascade et 3D, soit 75% des effets je dirais, par contre pour tout ce qui est pyrotechnique c'est clairement à la ramasse, mais bon ça fait partie du trip on va dire. Les combats sont assez bien chorégraphiés, particulièrement ceux de Meteor qui a des bastons vraiment sympas grace à sa Bruce Lee attitude. Et de toute manière, ne pas adhérer aux combats n'empêche pas d'apprécier les épisodes.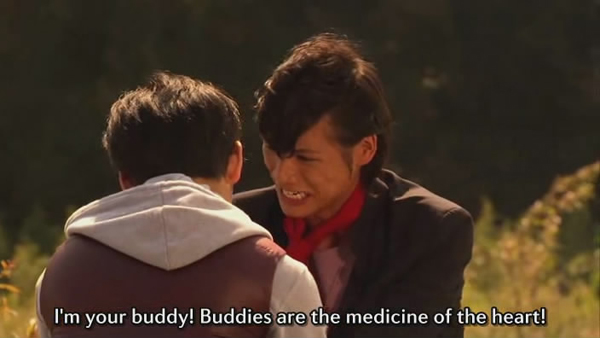 Kisaragi Gentarô le héros aux discours tellement ridicules qu'ils sont géniaux
En effet à l'image d'un Precure, les ennemis que devront affronter Fourze sont des copains en difficulté qui succombent à la tentation de faire appels aux pouvoirs maléfiques pour les résoudre. Ainsi les épisodes sont axés sur la résolution de ces problèmes et ne se limitent pas qu'a la baston. On a ainsi droit a des histoirettes assez bien inspirées, surtout celles écrites par
Riku Sanjo qui écrit les meilleurs épisodes de la série
. Et grace a des protagonistes aussi délirants qu'attachants ça passe très bien, Gentarô avec ses tirades viriles sur l'amitié devient vite un véritable bro auprès des spectateurs et c'est avec plaisir qu'on voit le Kamen Rider Club s'aggrandir au fil des épisodes.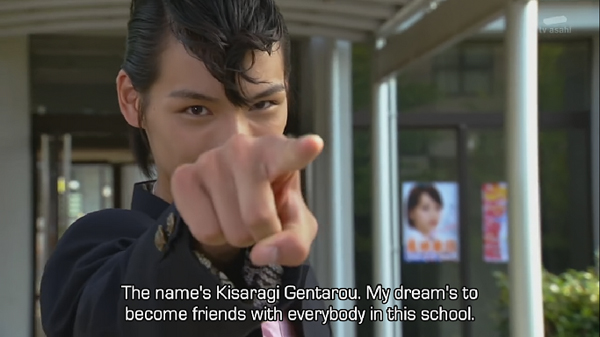 "Tu ne le sais pas encore, mais tu es déja mon bro!"
La série évolue bien au fil des épisodes et nous laisse pas le temps de nous lasser par la formule « monster of the week ». En effet, avec 40 switch qui correspondent chacun à une attaque de Fourze la série a toujours de quoi nous surprendre. On a aussi un nombre assez conséquent de personnage, a peine on a le temps de dire ouf qu'un nouveau personnage apparaît pour casser la routine. Et comme tout Rider de l'ère Heisei, Kamen Rider Fourze a un véritable scénario qui fait fil rouge tout le long de la série, a le droit a de véritables cliffhangers et est un véritable feuilleton: c'est a dire que vous pourrez pas matter n'importe quel épisode au pif parce que c'est tous les mêmes.
Vers un mariage Magical Girl/Rider?
Grâce à son ton léger, Kamen Rider Fourze ne tombe pas dans les mauvais aléas des séries Kamen Rider récentes qui se prend trop au serieux au point ou ça en devient ridicule et lourd. Et être léger n'empêche pas au scénario d'être bien construit et même arriver à nous surprendre alors que c'est un show pour gosses avec une écriture pas forcément subtile. Cette écriture assez spontanée et qui va droit au but est ce qui fait le charme des séries pour enfants ( quand elles sont bien faites ): Elles ont cette qualité d'être épurées de tout détail superflu et ont une écriture synthétique.
C'est une caractéristique qui se perdait un peu dans les Rider récentes avec laquelle Kamen Rider Fourze renoue car en toutes circonstances, elle ne se prend jamais plus qu'une série pour enfants, et aussi pour les grands enfants comme moi! Pour peu que vous soyez un grand enfant donc ( du moins que vous vous soyez accepté en tant que grand enfant car tous les fans d'animanga sont des grands enfants ), il y a de grandes chances que vous passiez un excellent moment devant Kamen Rider Fourze qui s'impose à la fois comme une excellente entrée dans la franchise Kamen Rider car très accessible, mais mauvais aussi car il s'agit très certainement d'un petit ovni au milieu des autres séries Kamen Rider et vous risquez p'tet de pas retrouver ça ailleurs (
si ce n'est en sortant des Rider
). Mais qui sait, il est bien probable que la prochaine série Kamen Rider, Wizard, qui commence la semaine prochaine approfondisse encore plus ce mariage Magical Girl/Rider car son thème est la magie!