L'article sur FLCL, Faut Le Corriger Longuement
Par NiKi // Japan pop' // 89 commentaires
Dedicasse à Ion, SISI. Marrant parce que ça fait six mois que j'écris ce texte et je dois dire que ma foi, je suis plutôt satisfait du résultat.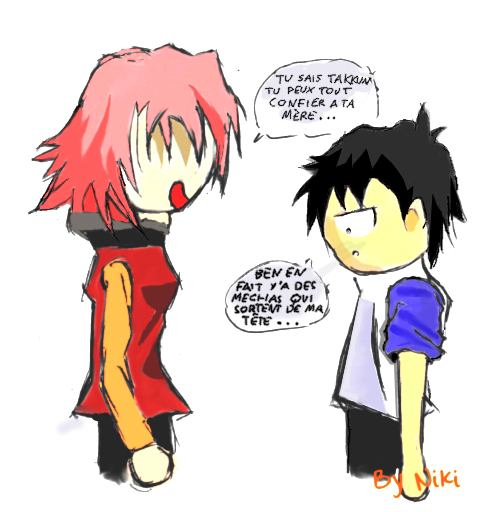 J'avais envie de le colorier, cherchez pas
GAINAX est un mot qui réchauffe les cœurs a beaucoup, d'autre diront que sa réputation est surfaite. Inutile de préciser que je suis un pro-GAINAX. Pourquoi? Déjà parce que le studio est la définition même de l'expression « par des fans pour des fans », des otaks qui te pondent un Daicon juste par PASSION t'en trouve pas à tous les coins de rue, et cette passion on la trouve un peu dans toutes leurs oeuvres, C'est Takami Akai qui avouait que pour faire un anime, les producteurs doivent être le premier fan, avant même le téléspectateur et cela se ressent sur la plupart des animés du studio, les animateurs sont engagés. Au fait vous vous êtes déjà demandé pourquoi le studio porte ce nom? C'est pas compliqué, ils voulaient un nom COOL, genre tu vois y'a le mot gaina qui veut dire GEANT et y'a un X à la fin ça sert à rien mais c'est méga trop classe. Ben FLCL c'est un peu ça, tu mets tout ce qu'il y a de plus COOL dans un même anime et tu regarde ce que ça donne. Genre un guitare c'est COOL, check. Les mechas c'est COOL, check. La GAINAX à rassemblé un peu tout ce qu'ils aiment pour créer cette série. Mais est-ce que ça ressemble à quelque chose ce bouzin? Nan parce que bon la mecha et les guitares ça a beau être mega trop chouette, c'est pas pour autant qu'on ne peut pas faire de la merde avec. Mais d'un autre coté, est-ce qu'il faut forcément que ça ressemble à quelque chose pour que ça soit génial? Tant de concepts ont été inventés en partant d'une idée de base que ''« c'est n'importe quoi ct'idée! »'' vous croyez pas? Si ça se trouve FLCL en fait partie qui sait?
Hey NiKi Y'A TROP DE PROBLEMATIQUES SI TU ENTAME PAS TA CRITIQUE ON EN A POUR LA SOIREE ONCHE.
Ah ouais ça date que j'ai pas écrit un critique, on fait comment déjà, ah ouais, on commence par un synopsis parce que c'est la norme:
FLCL, dit Fooly Cooly parce c'est trop FURI FURI et KURI KURI, c'est l'histoire de Naota qui est trop ZZZ parce que ce qu'il se passe dans sa ville est trop MOUAIS avec un fer à repasser géant qui FFWWIIISSHH. Un jour il voit une vespa qui lui fait VROOOOOUM dans la gueule et ça fait SBAM! Pis t'as la nana qui conduisait – Haruko qu'elle s'appelle - qui est trop HNNNNGGGG et qui MUCHUUU le gamin pour le réveiller et lui donner un coup de guitare qui fait ROAAAAAAWR pis DAAANG. Pis le gamin a un bosse qui FFFWRITCH un mécha de sa tête quand il est FFFUUUUUU. SPLASH PROUT SLASH BAM KABOUM!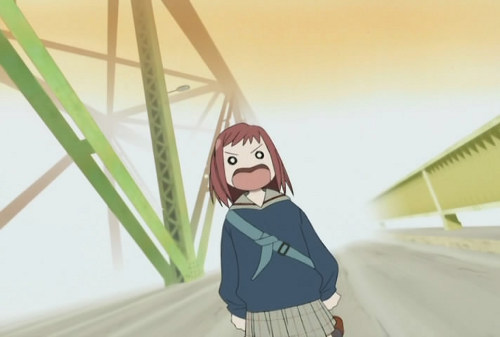 Ta tête après avoir lu le synopsis
Laisse moi resumer FLCL c'est l'histoire d'un gars qui se fait renverser par un chauffard et qui se prend un coup de guitare-tronçonneuse? Et se gars se met a sortir des méchas de sa tête? Et tu oses poser la question est-ce que ça ressemble a quelque chose?
Dites je me demandais, ou est la limite entre le logique et l'illogique? ( Et la différence entre voler et flotter derpy derp, trop profond ) Y'en a qui gobent bien le fait que l'on peut tuer tout en mangeant des chips devant son pc ( Dieu, que j'adore cet exemple ), et la un gars qui fait sortir des méchas de sa tête non? C'est certainement le reproche associé à la série que l'on voit le plus souvent: Ça n'a ni queue ni tête.

Dés les premières minutes passées devant l'anime, on réalise que c'est vrai, les éléments décrits dans mon synopsis - enfin encore faut-il que vous y ayez compris quelque chose – s'enchainent sans lien logique, la situation initiale se résume en une ligne pis on est immergé dans le truc, on te montre des trucs qui défient ta notion de logique, un gars qui crache des mechas, c'est juste PAS NORMAL, une nana qui te renverse et qui en rajoute avec un bon coup de guitare bien violent ça ne l'est plus, L'erreur à ne pas faire est de se poser des questions dessus, ça pourrait ruiner tout votre visionnage de l'anime. Le fer à repasser géant au sommet de la ville est un peu là pour le rappeler qu'on entre dans un univers particulier, la fumée qu'elle émet coupe le spectateur du reste du monde...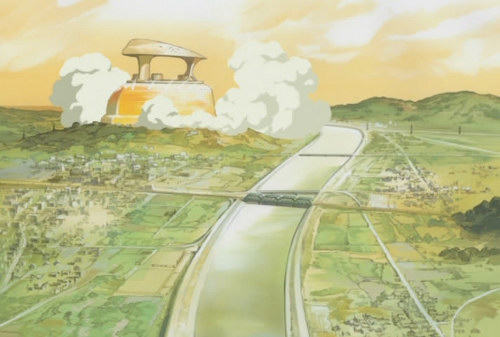 Mabase, une ville normale.
" Il ne se passe rien de spécial ici, seulement l'ordinaire "
Si toutes ces questions que peuvent éveiller l'univers si particulier de la série ne trouvent pas forcément réponse, ce n'est pas parce que les scénaristes ne savaient pas comment expliquer les évènements ( Genre comme dans Code Geass. Faudrait créer un point Godwin spécial Geass pour que j'arrête de fraîcher la série, on est d'accord, en attendant moi, ça m'éclate~ Et apparemment j'suis pas le seul. ) c'est juste que ce n'est pas la finalité de l'œuvre. Et comme je suis un gars très original, je vais prendre un exemple très ( trop? ) connu pour étayer ma thèse: Gurren-Lagann, ( Ça y est il va encore nous faire son fanboy et congratuler la série à toute les sauces, NiKi est pas différent des tous les blogchaniens qui se réfugie dans des fanbase à la noix! ) Je crois que tout le monde à compris qu'il n'y avait pas a chercher de logique à ce qu'il se passait dans la série, ça vous a pas empêché d'apprécier la série hein? Ben là pareil, cherchez pas à vous faire chier avec ça, regardez ce qu'on vous montre et ne cherchez pas ce qui n'est pas à l'ecran, vous verrez que c'est quand même vachement moins FOOLY que ça en à l'air.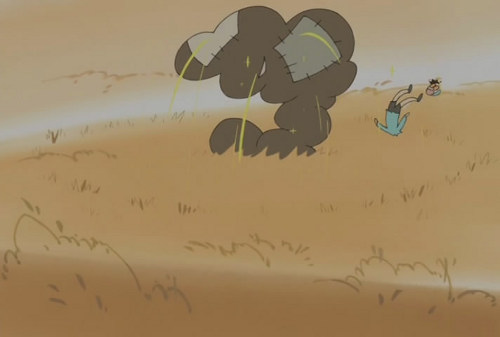 " HEY BOSS, J'AI UNE SUPER IDÉE!
Vas-y accouche
Et si on mettait de la COUTURE dans cette explosion?
Oh ouais putain faisons-le, best idée ever."
...
Nan j'vous jure c'est pas si stupide que ça FLCL. Même si y'a une grosse part de délire.
FLCL c'est avant tout un défouloir à énorme échelle, un show qui peut paraître totalement brainless. Vous savez dés fois vous avez envie d'un anime ou il se passe 36 ( chiffre pas choisi au hazard, comprenne qui pourra ) trucs de oufs à la minutes, que ça explose de partout, genre une méga-dose d'adrénaline. Ben c'est FLCL qu'il vous faut a ce moment là, c'est une série d'un dynamisme à couper le souffle, tout défile si vite qu'on a pas le temps de réfléchir, mais la série sait aussi s'arrêter pour éviter que le cerveau du spectateur implose. La grosse erreur à ne pas faire est d'essayer de trouver logique à tout ce qu'il se passe, la série ne cherche pas à expliquer ses aspects irrationnels. Je sais pas pour vous mais j'aime pas qu'on me tienne par la main et qu'on essaie de m'imposer une logique a des choses qui n'en ont pas.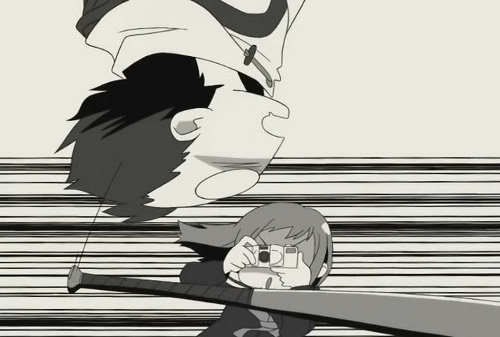 Ouais genre la le screen est si survolté pourrait être présentée par
Julien Lepers
. Attendez FLCL commenté par Julien Lepers? AWESOME. Attendez je vais le breveter.
FLCL s'affranchit de la rationalité pour offrir des situations totalement hyperboliques, boostées à l'adrénaline. Genre tu vois ils prennent tous les trucs les plus cools qui existent, les condensent dans un emballage de 6 OAVs de 25 minutes et essaient de les rendre encore plus cools qu'ils ne le sont déjà dans la réalité en assumant tout a fait que ce n'est pas la réalité. Je vais sortir l'argument préféré des détracteurs de tranche de vie « Je matte pas un anime pour voir ce que je vis déjà », qui trouve là tout son sens. Oui, devant FLCL on oublie la réalité, la fumée qui entoure Mabase, la ville ou vit nos héros constitue la barrière entre notre monde et le leur. L'énorme fer à repasser au sommet de la ville est un peu le symbole de cette différence entre la réalité et la fiction, genre voilà quoi, tu vois un quartier avec un énorme fer à repasser tu sais que c'est pas le monde tel qu'on le connait qu'on veut montrer.
"Quand tu joues de la guitare tu as l'air mature, pyon!"
SALU, je suis Haruko et je mets des lunettes de ski parce que je trouve ça TRÈS COOL
La réalisation de l'anime tend vers cet aspect évasif et jubilatoire. FLCL c'est une des dernières vraies séries d'OAV avec le budget qui va avec, oui parce que le format OAV autorise des mois d'intervalle entre les épisodes, les attentes en terme de qualité des spectateurs est naturellement plus élevé, Et oui fut un temps ou les OAV n'étaient pas qu'un simple moyen de rallonger une série, et était un format alliant les qualités d'un série TV et du film d'animation. Ouais, je pense que ça se voit, j'aime ce format.
Je pense que vous commencez à assimiler que FLCL est un truc assez relativement totalement super barré, qui part dans tout les sens, et qu'est-ce que serait un défouloir sans une bonne animation. Je vous le dis tout de suite, les animateurs se sont lachés, et ont totalement été pris par l'esprit de la série, on a l'impression que sur chaque dessin, il y a un animateur derrière qui se défoule avec son crayon. Pour une telle oeuvre, le Kanada-style paraissait indispensable et la GAINAX l'a bien compris. FLCL c'est une démonstration même de la folie de l'animation japonaise et donne au mot sakuga ( un mot japonais à la mode signifiant littéralement: animation clé ) ses lettres de noblesse.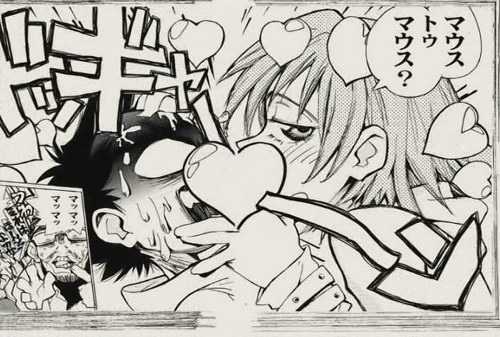 OLALA quelle honte, ils réutilisent les plans du manga dans l'anime, y'a aucun budget dans FLCL en fait
Et pour ce faire GAINAX a réuni un cast de qualité. Déjà, ils ont fait appel à Production I.G pour co-réaliser cet anime. Donc ouais je dis GAINAX par-ci par-la depuis le début de l'article car le fanboy est aveugle mais il faut savoir qu'il y a un autre studio de la mort qui tue à coté. C'est pas la première fois que GAINAX effectue une co-production avec un autre studio, Kare Kano par exemple était réalisé conjointement avec le studio J.C Staff. La paternité de ces animés reste du coté de GAINAX néanmoins, pour la simple raison que dans le cas qui nous intéresse, FLCL, les 4 réalisateurs, Kazuya Tsurumaki, Masahiko Otsuka, Shouji Saeki et Takeshi Ando sont de GAINAX. Le délire part de Kazuya Tsurumaki. La création vient de là, I.G ne fait qu'exécuter, mais à un degré assez significatif pour être désignés comme co-producteurs.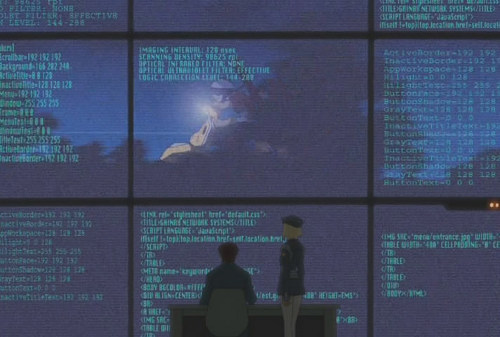 Et comme c'est un anime de la GAINAX, on a le droit à ce genre de conneries
Juste comme ça, Giancarlo Volpe, réalisateur de Avatar: The Last Airbender, a demandé a tous ses employés de mater FLCL pour leur montrer ce qu'était l'animation japonaise. J'approuve, tout simplement. Et oui, Avatar est une série à voir. Ouais, juste comme ça
Et donc pour FLCL ils ont invité un peu la crème de la scène sakuga afin de traduire au mieux ce sentiment d'exutoire dans les moindre dessins, le moindre mouvement de la série. Tout est impulsif, les mouvements sont jouissifs et imprévisibles à la fois, c'est un régal a mater, et ça, on le doit a de grands noms comme You Yoshinari, Sushio ( genre d'emblée, mes deux animateurs favoris ), Hiroyuki Imaishi ( ça tombe bien, c'est Kanada en personne qui a storyboardé le clip ) ou encore Tetsuya Nishio. Cela est servi par un chara design très expressif, au trait apparrents donnant l'impression que c'est dessiné sans retenue et suit très bien le coté déjanté de l'animation. Mais comme les images parlent mieux que du texte, voici teh sakuga mad ultime de FLCL.
N'hésitez pas a cliquer sur la vid' pour l'avoir en plus haute déf'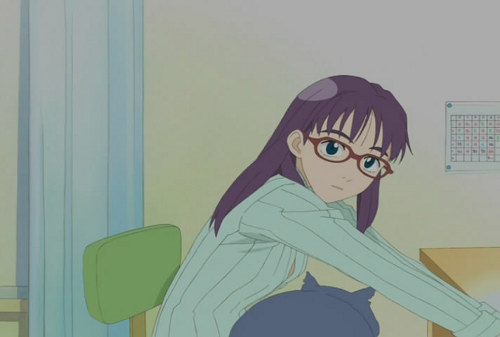 Et donc c'est Sadamoto au chara design, et je crois que c'est son boulot que je préfère avec celui de Tokikake
Oui ok enfin en attendant, la série n'a toujours aucun sens NiKi.
Une chose est sure, FLCL n'est pas le genre de séries qu'on est habitué a voir. La série nous plonge dans un univers délirant. FLCL est un parfait échappatoire à la réalité, quand tu rentre dans Mabase tu « oublie le monde extérieur » et tu te laisse bercer par l'ambiance survoltée de la série. Cette ambiance se ressent dans la palette de couleur légère, rendant le tout onirique. Cette ambiance onirique est renforcée par la narration qui un petit air mélancolique grace à l'OST de la série. Une OST qui est genre l'une des meilleures OSTs de toute la Japanimation. Je vous explique, GAINAX à eu l'excellente idée d'appeler l'uns des groupes les plus cools de tout l'univers , et de piocher dans leurs derniers morceaux pour en faire l'ost de la série. Son nom c'est the pillows, genre actuellement mon groupe préféré et genre moirceaux concernés couvrent l'une des meilleures périodes du groupe. Croyez-moi, des titres comme Last Dinosaur ou Crazy Sunshine vous marqueront à jamais. Notons que the pillows à fait sa part du boulot, en filant au studio des riffs instrumentals pour certains morceaux comme Come Down ou Advice et deux chansons ont été produites pour l'anime: L'ending Ride On A Shooting Star et la chanson I Think I Can que vous découvrirez dans le dernier OAV.
OSTs? Des chansons? T'es sur qu'on parle pas d'insert song?
Non monsieur. C'est justement ça qui rend l'ambiance musicale de FLCL si particulière enfin l'ambiance tout court en fait tant la musique est présente. Les chansons constituent la musique même de la série, il n'y a pas d'autre osts, en fond de dialogue vous avez du One Life ou du Another Morning en fond. Puis lors des moments de trouble, c'est magnifiquement illustré ( musicalement ) par des riffs dantesques qui vous donnent envie de tout casser du genre Stalker ou Nightmare. Et a la fin de l'épisode t'as un Little Busters systématique, un peu comme si c'était l'hymne de la série.
WITH THE KIDS SING OUT THE FUTURE
MAYBE KIDS DUNNED THA MASTERZ
JUST WAITIN FOR THE LITTLE BUSTERZ
OH YEAAAAAH
YEAH YEAH YEAH

Et contrairement à ce que l'on pourrait croire, la lisibilité sonore reste totale, le mixage est excellent, le volume des osts baisse et monte sans être brusque. La dualité importante entre les couplets et les refrains des chansons de the pillows aident bien, je pense surtout a des morceaux comme Carnival ou Hybrid Rainbow, qui montent doucement pour exploser tout d'un coup. Le storyboard s'adapte parfaitement au caractère de la musique et inversement. Le doublage fait bien de se distinguer de la musique, on peut écouter la piste ost et la piste vocale distinctement sans soucis, les dialogues sont tout a fait lisibles. Ce doublage se démarque aussi par un ton plus nature, les seiyuus ont tendance en général a exagérer leurs émotions afin de mieux le retransmettre ( ce qui n'est pas un reproche, écoutez moi juste Yuuichi Nakamura dans CLANNAD , il porte a lui seul la portée émotionnelle de la série ), ici ce n'est pas le cas. Les seiyuus sont plus décontractés que d'habitude, genre ils allongent pas leurs syllabes pour montrer leur colère ou ce genre de conneries. On atteint pas non plus le niveau d'un Omohide Poroporo ou les dialogues étaient la voute du film, on animait les persos après l'enregistrement du doublage donnant une qualité juste inégalée. Néanmoins cela nous empêchera pas d'apprécier les performances des seiyuus qui ont le mérite d'être assez étrangers au doublage d'anime, pas formatés par les habitudes du métier, et qui changent du dernier seiyuu a la mode qu'on entend dans 10 séries a la fois. ( Comme le dit si bien MannyC, aujourd'hui on a l'impression que c'est les 10 mêmes pélos qui doublent tous les animes qui sortent ) Leur performance s'adapte donc au caractère unique de la série.
[GotohWan] Evangelion - remastering 2005
envoyé par zipkivol. - Cliquez pour voir plus de vidéos marrantes.
DOUBLAGE
L'identité musicale de la série est très forte, les OSTs sont super bien utilisés et confère un aspect unique à la série, une ambiance inoubliable. Aujourd'hui, il me suffit d'écouter Runner's high ou encore Blue Drive Monster pour être propulsé dans Mabase et revivre tout FLCL le temps de quelques minutes, l'esprit de FLCL me suit tout les jours.
ESCAPE FROM THE SINKING!
DO YOU SEE, WHAT I MEAN?
FREEDOM BEATS DA KINGDOM
AND I SAW YOU, IN MY DREAM

Oui, des FLCL y'en a pas deux, cette série est absolument unique, elle s'émancipe de pleins de canons de la japanimation pour tout refaire de A à Z. L'esprit créatif de Kazuya Tsurumaki se présente dés les premières secondes de la série. Les dialogues sont originaux, l'environnement est original, les persos s'éloignent des cases propres à la japanim. ( O LA TSOUN DELE ) La série échappe à toutes les idées préconçues pour essayer de s'adapter a son environnement unique. FLCL un anime de mecha? Vous êtes surs? Vous parlez de Canti, le robot qui fait la vaisselle, étend le linge ou achète des revues cochonnes? Un scénario stéréotypé? Heu, vous voulez que je vous refasse le synopsis? Évidemment les personnages sont à l'image du scénario, complètement déphasés de ce que l'on aurait pu voir à ce jour.
"Si ce truc tombe, tu crois qu'on aura pas cours demain?"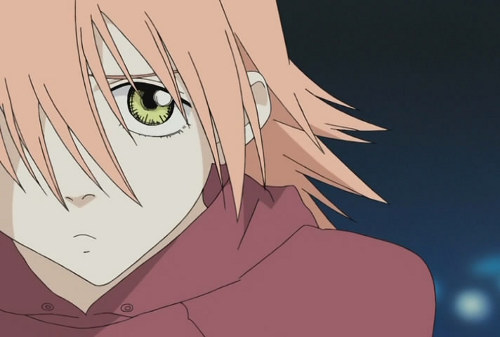 Ne vous faites pas avoir par son visage d'ange, elle est venue vous pourrir la vie. Lol on dirait le slogan des dvd Elfen Lied
La mise en scène aussi est imprévisible, c'est simple chaque épisode est différent du précédent. On pourrait presque dire que les épisodes sont visibles en stand alone, chaque épisode à son trip. C'est une narration assez idéale pour le format OAV, le spectateur se sent pas perdu dans une continuité tordue. Et pourtant, à chaque épisode on se plonge plus profondément dans l'univers de la série. En fait on découvre à chaque épisode l'une de ces facettes, il faut pas perdre de vue que FLCL est un voyage.
Chaque épisode a sa morale qui est la voute centrale de chaque épisode. En effet, à chaque fois, le robot sort suite à un trouble du personnage, un trouble d'adolescence. FLCL retranscrit le manque de repères de l'enfant qui grandit, et l'aspect bordélique reflète aussi le désordre cérébral de cette période. Naota explique ce manque de repères par l'absence de son frère, ainsi a chacune de ses invocation inter dimensionnelles ( quand il crache un mécha de son crane quoi ) il appelle systématiquement son frère. Haruko vient symboliquement remplacer son frère, on la verra ainsi le remplacer a différentes reprises. L'arrivée de Haruko, n'est pas choisi comme élément déclencheur au hazard, c'est elle qui provoquera le passage à l'age adolescent de Naota, qui tout au long de la série sera confronté à son propre manques de repères, tandis que Haruko l'aidera à se construire de nouveau repères. C'est elle qui va recoller les morceaux de ce bordel et l'aider à se reconstruire. Il va ainsi apprendre à combler l'absence de son frère, prendre confiance en soi, à aimer... A agir en tant qu'adolescent quoi! FLCL est selon moi le récit du passage à l'age adolescent par excellence.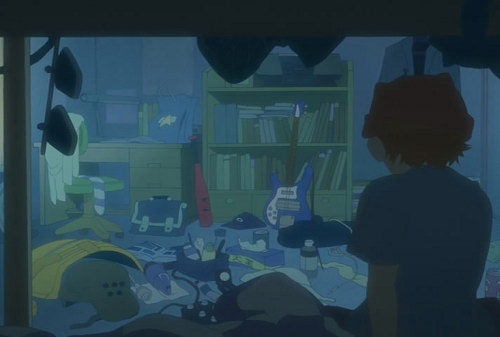 Le désordre de l'adolescence... omagad c'est une super excuse pour pas ranger sa chambre ça
La série brise le quatrième mur, et de manière intelligente. Parce que bon c'est bien beau de se dire « olol regardez on est dans un dessin animé » mais ça nous avance pas à grand chose. Non, la, si le quatrième mur est brisé, c'est pour impliquer le spectateur. Un peu pour te dire « on sait que t'es la derrière ton téléviseur » et se permet parfois de clarifier les choses, ou même répondre aux plaintes du spectateur, mais aussi le taquiner par le sens du poil avec des références qui lui sont adressées. FLCL reconnaît son spectateur, et c'est ainsi que l'on peut se rendre compte qu'il s'agit d'une œuvre personnelle.
"Je suis l'illusion de Takkun, la mémoire d'un esprit adolescent!"
Logique gundamesque: Quand un mécha est rouge, il est plus fort. True story.
Ouais ce qui ne se passe n'est « pas normal » mais prend-on le spectateur pour un décérébré pour autant? Hahaha vous le connaissez peut-être l'argument de CP « FLCL, y'a rien a comprendre, tu poses ton cerveau et tu regardes » genre comme si c'était Kara No Kiyokai. Rassurez-vous je vais pas vous sortir cet argument à la noix. Non, FLCL nous prend pas pour des demeurés. Cet ensemble d'évènements improbables ont pour le rôle de faire passer des messages, les fameuses « morales » dont je vous parlais tout à l'heure.
Est-ce que quelqu'un est toujours là pour nous expliquer ce qu'il se passe? Non. Les choses arrivent par fois sans explications. Dans la série, on ne sait en général pas plus que ce que sait Naota. La série adopte un point de vue lyrique. La narration à la première personne de Naota confirme ainsi son point de vue. Ce que l'on sait est ce que Naota sait. A-t-on besoin d'en savoir plus? Non. Car l'histoire est racontée du point de vue de Naota. Après oui, il y a des scènes pour clarifier la situation, mais elles n'expliquent rien, ils nous permettent juste de savoir dans quelle situation on est, ou juste ajouter une pointe d'humour.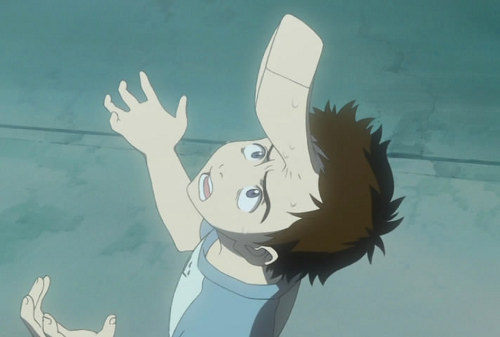 Maman, pourquoi ma corne devient toute dure?
"Une histoire vraie qui semble être un mensonge"
Car ne l'oublions pas, FLCL c'est avant tout un gros délire ou les réalisateurs placent toutes leurs idées les plus connes. L'exutoire de la série passe aussi par une grosse part de délire, qui se fond très bien à l'ensemble bordélique de la série. L'improbabilité des situations est parfois grotesques et part très loin en dépassant vite les limites du délire. Si vous aimez l'humour wtf bien random à souhait, il y a des chances pour que vous vous marriez bien devant cet animé, qui assume complètement sa part de délire.
FLCL est un pur OVNI, avec un truc que pas mal d'oeuvre manque, une âme. Ouais l'esprit de FLCL restera dans mes mémoires. La série continue dans mon esprit, c'est le genre d'oeuvre que je peux qualifier de culte. Le genre de trucs dont je pourrais pas dissocier de ma vie, qui sont ancrées dans ma culture et que je vais certainement le revoir de dizaines de fois. FLCL c'est une experience unique et lyrique, que chacun interprètera à sa manière. Je vous donne des pistes sur comment j'ai interprété la série mais je vous invite à vous faire un propre idée de la chose. Une chose est sure FLCL ne laisse pas indifférent, et a une identité bien ancrée. A vous de voir si vous êtes près pour vivre l'experience, ce que je ne peux que vous recommander. A noter que Dybex a annoncé les blu-ray FLCL dans leur planning, une bonne occasion de rattrapper votre retard et de contempler au mieux l'animation géniale de l'anime.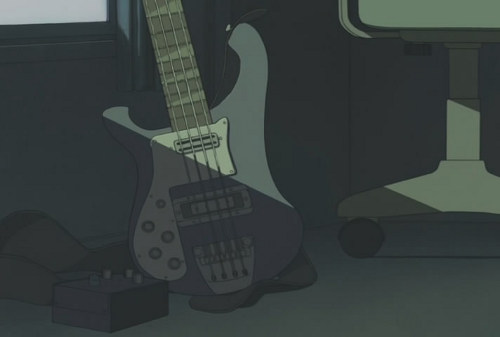 " Il ne se passe rien de spécial ici, seulement l'ordinaire "